The Great Eagle
Posts: 3257
Joined: Tue Aug 08, 2006 3:53 pm
Location: Melaka
Contact:
Thanks Sam, more projects to occupy me hehehehe! This ought to be interesting
---
The Great Eagle
Posts: 3257
Joined: Tue Aug 08, 2006 3:53 pm
Location: Melaka
Contact:
Hi Sam,
Need your help to identify a bird
Before that need to explain the blurry photo. I am a bad photographer but not that bad hahahaha!
I saw some movement which I thought was a Puteh. Its a Puteh size bird hopping around. I waited for it to fly of but it didn't, When it turns around I saw the brightest streak of red I have ever witnessed in a bird, so I took out my camcorder & zoom max. Sh*t, forgot to insert back the memory card which I took out. In desperation, I photo it to the video tape & the result is actually a screen shot with my other camera (anyway just sharing so people can roll on the floor laughing at my blunder)
A naturalist I am not, but would like to start identifying what is visiting my garden
I thought the strawberry finch was colourful, but this coloration is fluorescent like. Sorry to veer off topic, it would take too much time to familiarise myself with a birding website.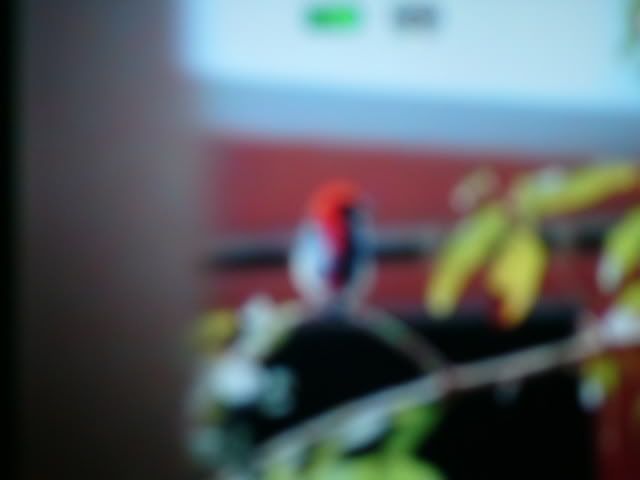 ---
Talking Birds
Posts: 152
Joined: Tue Oct 10, 2006 2:02 pm
Location: Petaling Jaya
Hi dance4rain,
Are you sure your daughter is not playing a trick on you and stuck her toy bird on a branch?
Looks like it!
Ok, seriously I can hardly see anything, but if I were to hazard a guess, I would say it was a Scarlet Sunbird. But usually the Scarlet Sunbrid is only found in sub-montane and montane areas, at least 1000ft above sea level although there were reported sightings of the birds at lower ranges.
warmest regards,
Sam
---
The Great Eagle
Posts: 3257
Joined: Tue Aug 08, 2006 3:53 pm
Location: Melaka
Contact:
Hi Sam, time to check whether the toy is nesting or not. My brother told me today the bird is building a nest among my bamboo trees. Haven't verified, but if so then got plenty opportunity to take photo.
Seriously, I thought the bird got caught up or tangled with some ribbons or string. The pic or what poor excuse of a pic shows the bird facing away from me with the red streak from the top of the head to the rump (probably further) Anyway, this amateur photographer will try again.
---
softbillsaviary wrote:Hi all,

Has anyone tried feeding chiku to their mata putehs?

Did your puteh like it?

regards,
Sam
Hi Sam,
I'm a newbie. Happen to keep a few putehs and have a brother with a chiku tree in his garden. Don't mind to tell u that he's always cursing and swearing cos' starlings, mynahs, crows, bulbuls often visit and leave their presence behind. Night time the bats complete the 24 hour schedule.
Putehs do eat the fruit but I stopped because of its sap. The darn fruit leaves a sticky sap whenever I eat them. But then the other winged visitors don't seem to mind.
Btw I enjoyed reading what u have written and hope the following info would be of use to our fellow birdkeepers.
I find those bottled fruit juices very user friendly. One brand I use is the Carrot juice by Pokka. Like u said somewhere in your postings the watery stools come with drinking the juice. Also I understand there is a distributor for Nekton vit. located in Petaling Jaya.
I hail from S'pore and certainly enjoyed reading the stuff u have written.
Bye for now,
Nick .
---
The Great Eagle
Posts: 3257
Joined: Tue Aug 08, 2006 3:53 pm
Location: Melaka
Contact:
Hi Guys,
This will be off topic. But since I started it, I shall continue until I hear protests
For starters, my bamboo trees became a victim of a storm and they become bent & leaning on my house. Spent 1 whole evening clearing it & got no chance to view the mysterious bird that has a red streak across the back. Found at least 6 empty nests. Now less attractive for visiting birds. Still waiting for it to make a reappearance. Hehehe!
Found another new visitor in my garden as attached below. I must be one of the laziest bird watcher around - watching only from my arm chair hahahaha!
Will post more as and when I get some good shots.
[img][img]http://i90.photobucket.com/albums/k247/dance4rain/Visitor01.jpg[/img][/img]
---
---
Return to "Zosterops / Mata Puteh"
Who is online
Users browsing this forum: No registered users and 1 guest