I have been asked many times how to post videos in the forum. Thought I explain how I do it here for all to see and comment so I don't have to repeat myself over and over again
Anyway, previously, I would have recommended PhotoBucket but now since YouTube has been enabled, this is what I prefer.
Step 1: Get a YouTube account
Step 2: Log in to YouTube
Step 3: Click on the "upload" button at the top right corner of your computer screen as shown
Step 4: After uploading, look for the code as displayed in the picture below and circled in red. This is the code we want. Right click on it and choose copy.
Step 5: Then in MBF, click on the "YouTube" button located as shown below.
Step 6: You will get a text that looks like "[youtube ] [youtube ]" as shown. What you need to do is place your cursor in between the brackets (as shown below), right click and choose "paste".
Step 7: You would have pasted the YouTube code in YouTube to MBF and it would probably look like this: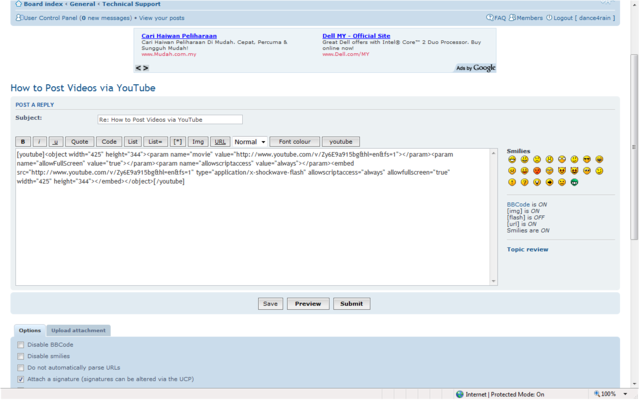 Step 8: Click "Submit" and an image like the one below will appear. You can add text before or after that image.
Hope the explanation is clear. Anyone may wish to add some commentaries to make it clearer. Its not easy to sit down and write a training manual you know hahahaha!