Hi there fellow MBFers:
I made a trip to the islands of Hawaii – O'Ahu, Maui and Big Island sometime mid April and was pleasantly surprised to see many species of birds that are of interest to us in the wild.
Birds that I sighted were:
Common Waxbill, House Finch (Linnet), House Sparrow, Japanese White-Eye, Java Sparrow, Red Crested Cardinal, Red Vented Bulbul, Red Whiskered Bulbul, Rock Pigeon, Spotted Dove, Zebra Dove and the White Rumped Shama.
They are generally tame and I was able to capture some pictures of them. Please pardon my poor photography skills. I hope to share with you the sightings of avian wildlife that I had experienced while on my trip.
The pictures in this thread are relevant to the interest group of this category of birds. The rest of the pictures of other birds are found in the other threads relevant to the other groups of interest to that particular species of birds.
Enjoy!
A Spotted Dove, Streptopelia chinensis at Pearl Harbour, Honolulu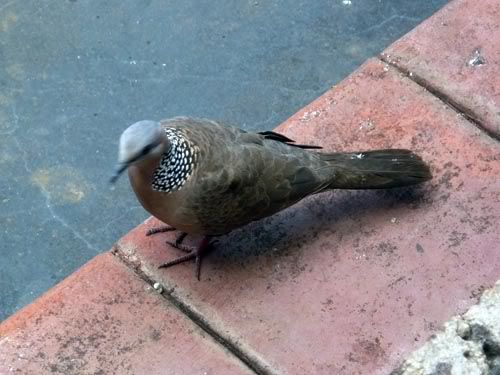 I noticed a few variations of the colors of this species in Hawaii. Some were darker than the others, some had no speckling on their backs.